kxd150 water
Detailed Product Description
KXD-150A directional and reverse circulation construction and water well drilling rig is designed by our engineers, it is adopt
Main features
KXD-150A directional and reverse circulation construction and water well drilling rig is designed by our engineers, it is adopt truck mounted and is a rotary drilling rig.
The truck chassis is adopt the special crane chassis of brand DFAC, the main transmit, transmission power, gearbox, sets of windlass, mud pump, sewage pump,mast are setup on the chassis.
The rig has directional and reverse circulation pump, it adopts slurry as the washing fluid, the directional circulation drilling and reverse circulation drilling can be switched by changing mud pump and sewage pump.
The power of drilling rig comes from the truck engine, the rig setups distribute implement and hydraulic system.
We can upset the spare electric engine and clutch implement according to client's requirement, so that the rig can work with diesel engine or electric engine.We can setup a electric generator (MF) according to client's requirement, which can provide lighting in night.
We can setup the 7.5KW vacuum pump for water-absorbing systerm,it will be more convenient to absorb water with 6BS or 8BS mud pump.
We can setup the hydraulic adding pressure implement, so it has a high efficiency when the rig drill on mud rock and weathering formation through using the adding pressure implement.
The master driving of rig is mechanical, the four jacks and mast are hydraulic operated. Distribute box, sewage pump, master driving clutch system are air operated. The assistant pipes have two types: flanged and screw linked.
The appearance of rig is pretty, it has a high efficiency because of having larger torque, it is suitable for water well, construction, building, bridge foundation, port, dam and so on, it is populated by the domestic and foreign clients.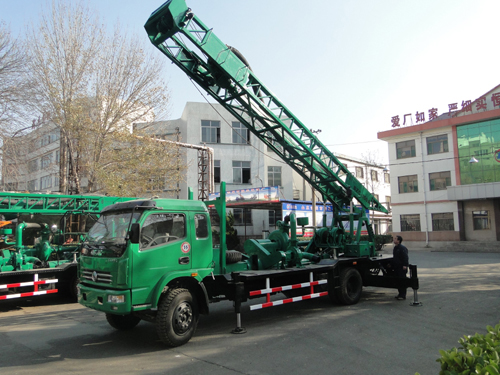 kxd150 water